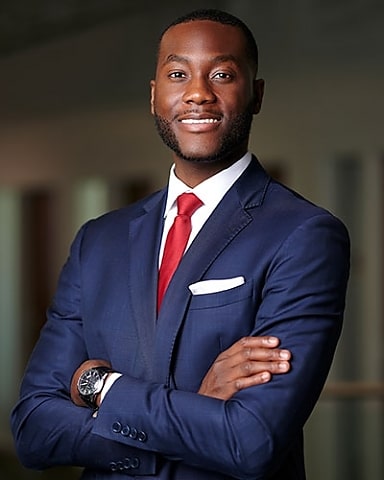 Attorney George Oginni
George Oginni was born and raised in Dallas, Texas where he attended the University of Texas at Dallas. While at UTD, George worked with the City of Garland as an economic forecaster to build a water park for the city. After achieving his undergraduate degree in Economics, George moved to Houston to receive a Masters in Business Administration at Texas Southern University.
Subsequently, George Oginni attended Thurgood Marshall School of Law, where he served as the Editor-in-Chief of the law school's law review, tutored all 1L courses offered by the school for ALSA, graduated Summa Cum Laude, and competed in various mock trial and negotiation competitions.
After law school, Mr. Oginni worked as a legal clerk for one of the best commercial litigation and criminal defense law firms in America, as nationally ranked in "Prestigious Best Law Firms list for 2020." Mr. Oginni uses his commercial litigation experience to help our client's cases and fight for the highest settlements; our clients deserve the best.
George Oginni's primary focus in the law firm Leo & Oginni Trial Lawyers is personal injury and helping people who have been injured in car accidents, delivery truck crashes, or got bit by a dog. Throughout the years, George Oginni has worked as a legal clerk for notable personal injury trial law firms which include cases ranging from Car Wrecks, 18-Wheeler Crashes, Product Liability, Wrongful Deaths, and many more.
"I naturally have a desire to help people, which is why I love to practice law for a living."- George Oginni
If you or anyone you know has been hurt in a Car Accident, Truck Crash, or by a Negligent Dog Owner- Help Is Here! Call or email us today so the attorneys at Leo & Oginni Trial Lawyers can evaluate your case for FREE.
HONORS & AWARDS
John Howie Award - "This award is presented for the courageous pursuit of justice in the face of adversity" in a particular case
Summa Cum Laude, Thurgood Marshall School of Law
Houstonia 2020 Top Lawyers
American Academy of Trial Lawyers - Top 40 Under 40
American Institute of Trial Lawyers - Top 40 Under 40
EDUCATION
Thurgood Marshall School of Law
Jesse H. School of Business, Master of Business Management
University of Texas at Dallas, BA in Economics
LICENSES
Licensed to practice in the State of Texas
PUBLICATIONS
2019 The New Civil Rights, Editor-In-Chief
PROFESSIONAL ASSOCIATIONS
Houston Young Lawyers Association